Overview
A very compact purpose built petrol engine that has been designed solely for use in model planes might seem too good to be true, but not any longer.

Thanks to the introduction of the new .60 size 10cc petrol engine from Evolution all of the benefits of using a petrol engine can be achieved in regular .60 size sport, aerobatic or warbird models.
The engine features a CDI (capacitive discharge ignition) electronic ignition system that automatically controls the timing advance ensuring the spark arrives at just the right time throughout the rev range for maximum performance, a front mounted pump carburettor fitted to the 10GX 10cc ensures a constant supply of fuel with minimal risk of "dead sticks" and comes factory set for ease of starting and reliability.
Each engine comes complete with a compact electronic ignition module complete with battery hook up leads, shielded spark plug lead and cap, RF resistor type spark plug, compact side mounted silencer and traditional "model spec" beam mounting for ease of installation.
Cleaner to use with no un-burnt oily residue over the model, more economical to run when comparing the price of a gallon of glow fuel to a gallon of petrol, in fact switching over to petrol power has never been easier!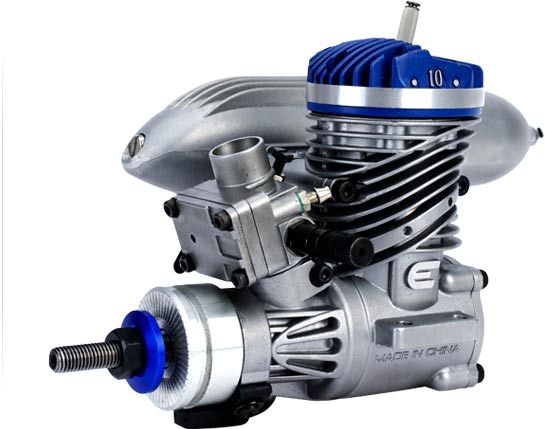 Specification Features
Displacement (c.i.): 0.6
Compact size will fit most .60 size models
CDI (capacitive discharge ignition) electronic
ignition system
Ignition module is half the size of typical
modules (less weight)
Easy hand starting
Reliable idle
Smooth running
Shielded spark plug lead and cap
Pump carburettor
Easy throttle servo hook up
Silencer included
Standard beam mounting for easy installation
Exceptionally broad torque range
Uses between an 11×7 up to 13 x 8 propeller
The larger propellers reduce rpm and associated
noise
Cleaner and much more economical compared
to using a Glow engine
Bore (mm): 24
Stroke (mm): 21.5
Weight (oz): 15.3
Crank K (ISO): 1/4 x 28
Cylinder: ABC
Propeller: 12 x 6 @ 12,600 rpm
Source: Horizon Hobby UK